his year's BIT tournament (section C) is dedicated to the 30th anniversary of the death of legendary grandmaster Nenad Petrović. I am very pleased to note that the level of the tournament is high; a number of very interesting problems have been presented, which will certainly stimulate future work on this theme!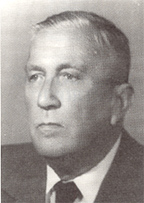 Nenad Petrović
(7th Sep 1907 – 9th Nov 1989)
Thanks to all the participants, and congratulations to the winners!
The theme of this tournament was:
The fairy conditions Protean Chess or Frankfurt Chess, presented in HS#3 with exactly 2 solutions
.
Above all, I must point out that these two conditions are almost identical, and the general requirement for them is: "When a piece captures (King included), it takes the nature of the captured unit (without changing colour). A King capturing becomes a royal unit". (Nowadays this definition exists in WinChloe and the condition is denoted by the French name Francfort).
In fact, this is the exact definition of Frankfurter Chess, first introduced by the inventors Albert Heinrich Kniest & John Niemann in The Fairy Chess Review, Vol. 7, Nr. 1, VIII / 1948. The name of the condition, however, was coined by Paul Schlensker.
The predecessor of Protean Chess is the Protean piece, also defined by A. H. Kniest around 1940 in Unsere Schachwelt, but historically it is not known when exactly the Protean Chess condition was established.
The difference between Frankfurter Chess and Protean Chess is the following: If an enemy pawn is captured in Protean Chess the new pawn on the same square (with a changed color) moves in the direction of the captured pawn. In Frankfurter Chess, of course, this strange rule is missing (nowadays Protean Chess exists in Popeye). When there are no pawn captures or these captures have no thematic effect and do not affect the correctness of the problem, we can assume that the two conditions are the same. In this case, the author may indicate below the diagram what condition he wishes.
For the sake of clarity, I decided to place the following additional symbols after the solutions of the problems, using the first letters of the program names Popeye (P) and WinChloe (W): (P + W) means that it is possible to use either of the two conditions; (P) means that only Protean Chess is used; (W) means that only Frankfurter Chess is used.
From the tournament director I received 24 originals by 18 authors from 11 countries. I eliminated from the tournament on various grounds the following problems: No: 17, 21, 24 these problems do not meet the regulation as they have twins or set-play. No 4 - Not optimal construction. It is easily possible to get a position with 2 pieces less if you move the starting position with one vertical to the right. No 11 - The wBc1 is superfluous in the solution after 1.g8 = Q.
I suggest the following ranking